Youth Ministry
Youth Ministry
Youth Ministry
"The Fishers of St. Anne's"
Youth Ministry
At St. Anne's we are very blessed to have a youth group, "The Fisher's".
The youth group meets every second Sunday after the 10 o'clock service. At the meetings they learn about God, and discuss new ways they can spread God's word. The youth group plans special meetings such as; beach day, overnight camps and hiking trips. They also plan fundraisers such as; bake sales, car washes and luncheons.
Come and join us!
News
---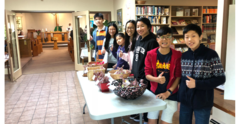 The "Fishers of St. Anne's" - our youth group - raised $260 through sales of their baked cookies, muffins and rice krispy snacks. All proceeds are going to help the Primate's Relief and Development Fund, and... Read More